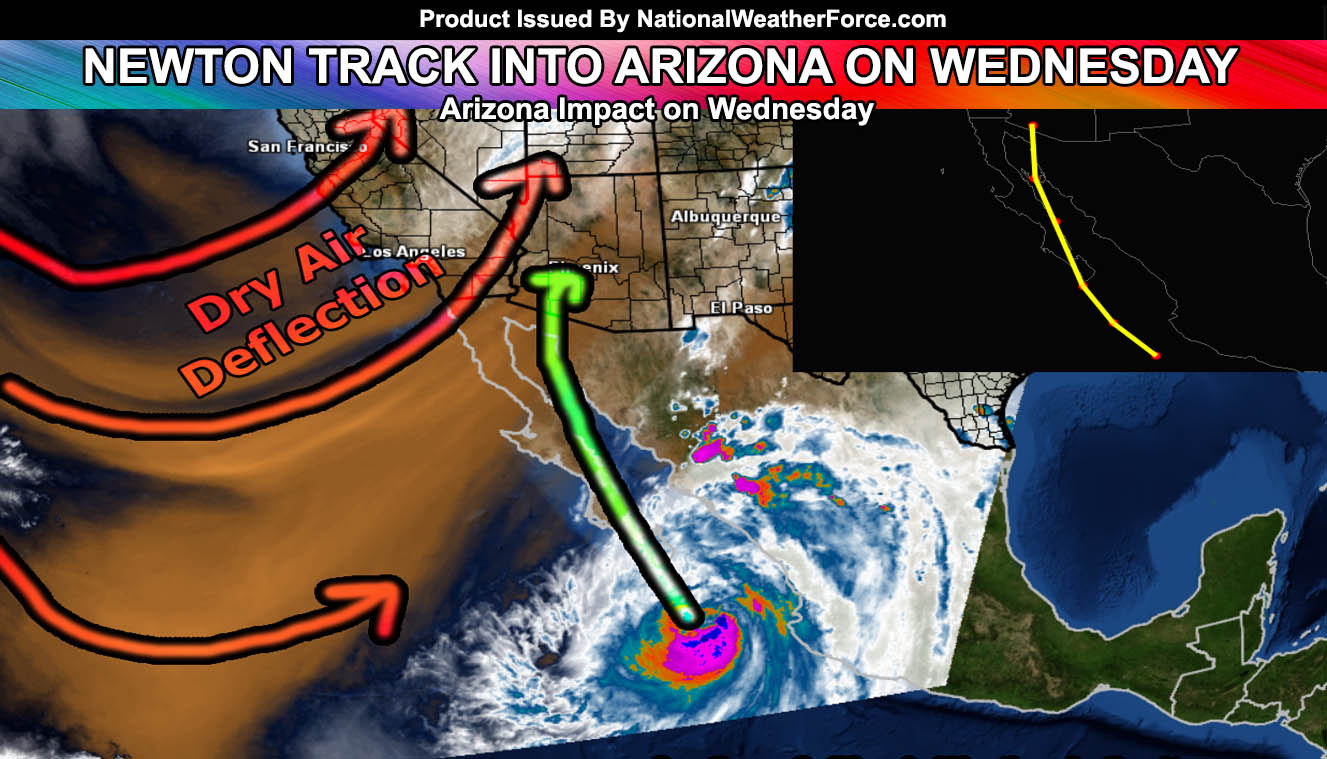 The remnants of Hurricane Newton are hitting Arizona on Wednesday and flooding will be likely.  Severe thunderstorms are expected in the Phoenix and Tucson forecast areas on Tuesday, ahead of the storm!  Read on for more details on who will be affected.
Hurricane Newton will impact Cabo San Lucas, Mexico on Tuesday morning as a hurricane.  The system will pack winds between 75 and 85 mph in that city.  After passing the Gulf of California, Newton will diminish as he moves toward the Southern Arizona border early on Wednesday morning.  Earlier progs showed the system being slower with an impact on Thursday, however this evening has pushed the forward motion up and a Wednesday impact will happen.
Tomorrow's weather in Arizona will feature the risk of severe thunderstorms in the Phoenix zones, south and eastward.  Ahead of the system will have monsoonal moisture returning to the region .. and because of the instability I am introducing the risk of severe thunderstorms as early as Tuesday … well ahead of the main flooding event.
Because of the southerly flow and large low level moisture fields, coupled with the instability and lift in the right-entrance side of the upper level jet stream … do feel the risk of isolated tornado potential exists for 50 miles surrounding the Phoenix Metro areas for Tuesday evening … Be advised .. In addition to this would be larger hail and damaging wind potential … nevertheless it looks like a severe thunderstorm event there.
For Wednesday, the main center of circulation from Newton moves into Southern Arizona and thus brings the deepest moisture with it for flooding in South-Central/South/Southeastern Arizona.  Because of the lack of instability it will mainly be a rain event and no severe thunderstorms are expected in the center of Newton's circulation …
The hardest flooding hit areas will be Southern and Southeast Arizona on Wednesday …