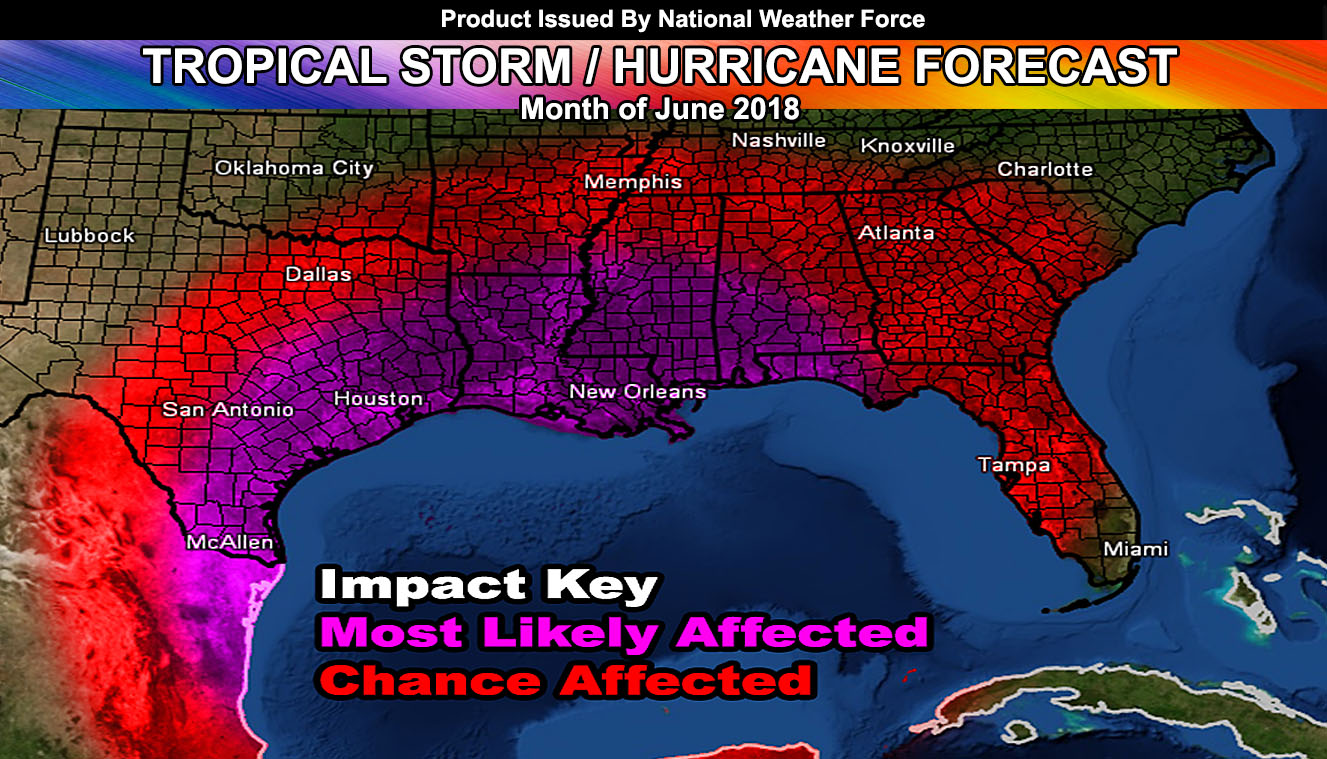 This is your official tropical storm and hurricane forecast for June 2018 across the United States and SoCal (Socal is not on the graphic but is the wording) based off the current pattern outlook… if you're in Southern California.. also look at this.
Welcome to National Weather Force, a division of Southern California Weather Force.  Regardless of what you may read in the past, it was not from me, but ex-employees of mine and I decided to go at this ALONE now … as I am with Southern California Weather Force.  So please read on for a real accurate outlook for the USA in terms of Tropical Storms and Hurricanes for the MONTH of June 2018 and look at my CAPS for intonation.
As you can see from the graphic we will have the highest area along the Gulf of Mexico mainly from the FL panhandle westward through the entire Texas Coast, including New Orleans and Houston … so if you have family or friends there please share this to them.. another way for me to prove myself. (Facebook links below and the story is after that so read on but like the pages to be informed for more!)
SOUTHERN CALIFORNIA ONLY:  if it does not say "Liked"  LIKE The Page Below and join thousands of informed weather forecast viewers in our region for more of the updates! noticeable
REST OF THE UNITED STATES:  if it does not say "Liked"  LIKE The Page Below and join informed weather forecast viewers in the region for more of the updates!  NOTE:  National Weather Force is a different name from before but is open and ready for business nationwide.. so if you are NOT on the gulf coast or California I will take care of you so CONTINUE to LIKE it.. and contact me and tell me what you want.
The least areas for Tropical storms will be Florida and the East coast of the USA through FL/GA/NC/SC/VA etc … the entire east coast will not see a tropical system this month as winds in the upper levels deem unfavorable.
As for Southern California and Baja,Mexico .. There are hints that IF (look at the IF) .. IF a tropical storm forms we will see somewhat of a heatwave by mid-month and IF (look at the if again) it happens which I think it will .. we could have some monsoon moisture in the area and a chance of thunderstorms but NO LAND-FALLING HURRICANE… not yet.. I'll let you know when it will happen …
Things to note are as followed;
A colder than normal Summer does not mean we won't have times of a heatwave or two.  It means overall it'll be colder than normal.
Tornado activity will remain this Summer in the desert and Central/Eastern Inland Empire areas.  Thunderstorms elsewhere likely …
Monsoon Season starts June 15th, however this year will be a mid-start, likely toward or in July.
To remain active this Summer we are keeping the member section open to the public but as a 'donation' for help, by Clicking Here you'll help this service remain into Summer.