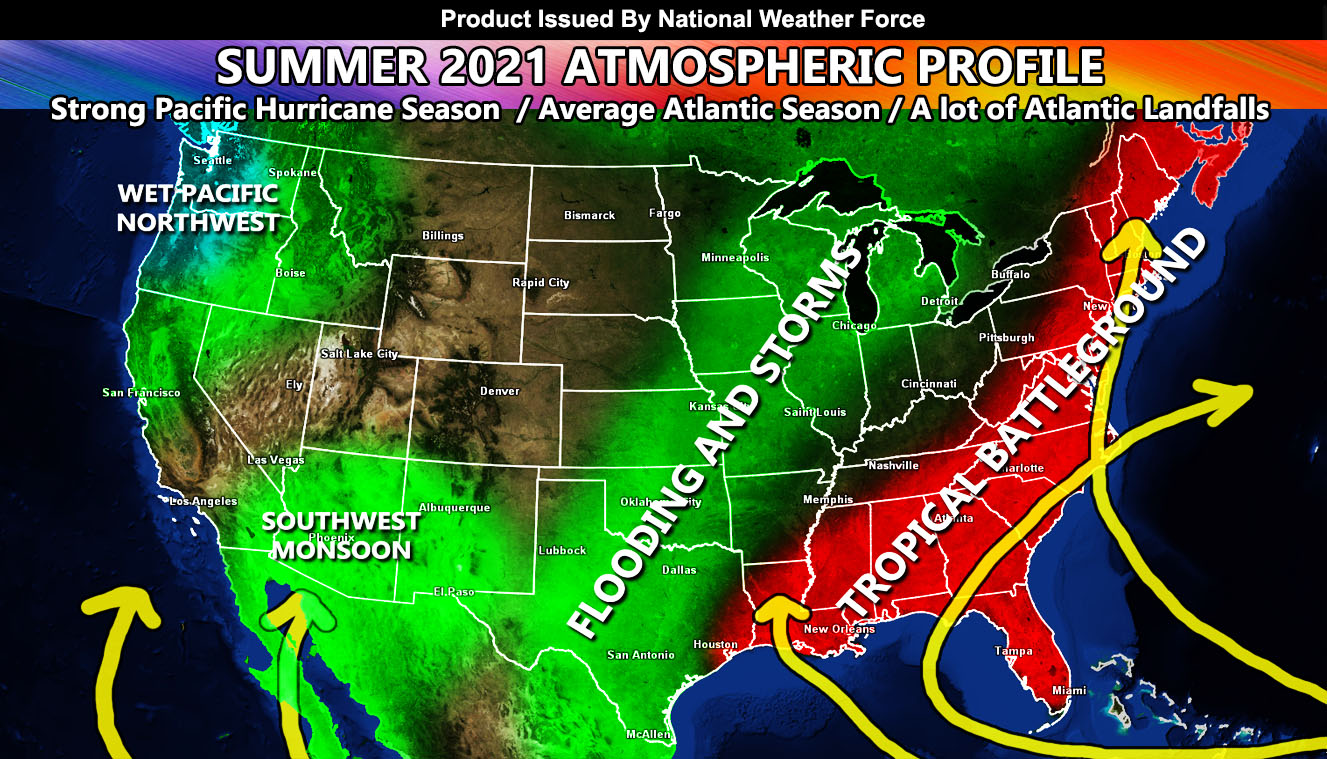 La Nina has officially died and we have transitioned into a neutral pattern, which is neither La Nina or El Nino.  This will last through Summer 2021 so what does that mean for us?  I expect an above-average hurricane season for the Pacific and an average number for the Atlantic.  However, this season bodes well for a number of Atlantic Hurricane landfalls stretching up the East Coast, a wet Pacific Northwest, a good Southwest Monsoon, and an interesting season to come so read on for details.
FREE EMAIL SERVICE YOU MIGHT NEED:  First before I go into the forecast, National Weather Force has a free email alert system for posts made on the site.  You sign-up, get your account activated and choose between hundreds of locations within the states to get alerts such as flood, hurricane, tornado, snow, etc.  This is a completely free service I offer for now at National Weather Force as this is a side project.  This service does NOT include Southern California or Arizona.  Those have their premium services. If you are elsewhere, CLICK HERE TO JOIN.
ATLANTIC HURRICANE SEASON:  Due to the La Nina fading fast into neutral, there is a toss-up on what kind of season it will be.  La Nina generally brings more hurricane numbers to the area and El Nino lower.  This is a toss-up so I'll go right in the middle and go with an average season.  An average season does not mean it will not be a dangerous one.  In fact, the placement of the monsoon ridge in the Southwestern United States along with the Bermuda High with the trough between it on the East Coast tells me the season will have a number of landfalls.  Louisiana should look out once again, as well as the Carolinas.  These systems will form east of the country and move west, curving north and impacting the region.  A number of these will do so this season.   One may even sneak fast up to New England in that case.
PACIFIC HURRICANE SEASON:  Due to the La Nina fading fast into neutral, there is a toss-up on what kind of season it will be.  La Nina generally brings fewer hurricane numbers to the area and El Nino more.  I will not go into a toss-up like with the Atlantic Basin forecast.  The jet stream will shove far north and this will allow for less shear down there.  Two named storms have already formed, the last one Blanca.  The season is starting early in response to the upper jet pushing northward.  This will mean that the basin would have an above-average hurricane season.  Some of these will curve and impact Baja, Mexico – including Cabo San Lucas.
SOUTHWEST MONSOON:  As hurricanes form west of Mexico, moisture within the outflow gets shoved northward towards our area. Of course, Arizona will always get the most activity, but the ridge shoving moisture eastward into Southern California will be in place this time, especially in July. This season however will be one where it fluctuates by month. I see July being active, but between then and September we will see a dry spell … then get whacked again towards the end of Monsoon Season. Monsoon Season goes from June 15th to September 15th.
PACIFIC NORTHWEST:  Idaho will certainly have an above-average temperature summer due to the monsoon exhaust flow out of the south and associated humidity.  However, the upper jet stream continuing to bring systems into Western Canada and The Pacific Northwest looks prominent.  I'll keep the area under above-average Summer rainfall events as a result of this.
CENTRAL UNITED STATES TO MIDWEST/GREAT LAKES: The stream of moisture coming in from Texas northward would work with the upper-level jet stream to bring a number of tornadoes to these areas through this season, some of them will be strong, especially in areas around the Upper Midwest.
---
Want notifications? Sign into the free email alert system and choose your state area(s) -Southern California and Arizona are not served though.
LINK TO REGISTER IF ELSEWHERE – http://www.nationalweatherforce.com/national-weather-force-email-alert-system-sign-up/
Have a comment?  Ask on the FB post  – You can even ask your city and get an answer if you are confused – The NWF Facebook Page Link By Clicking Here