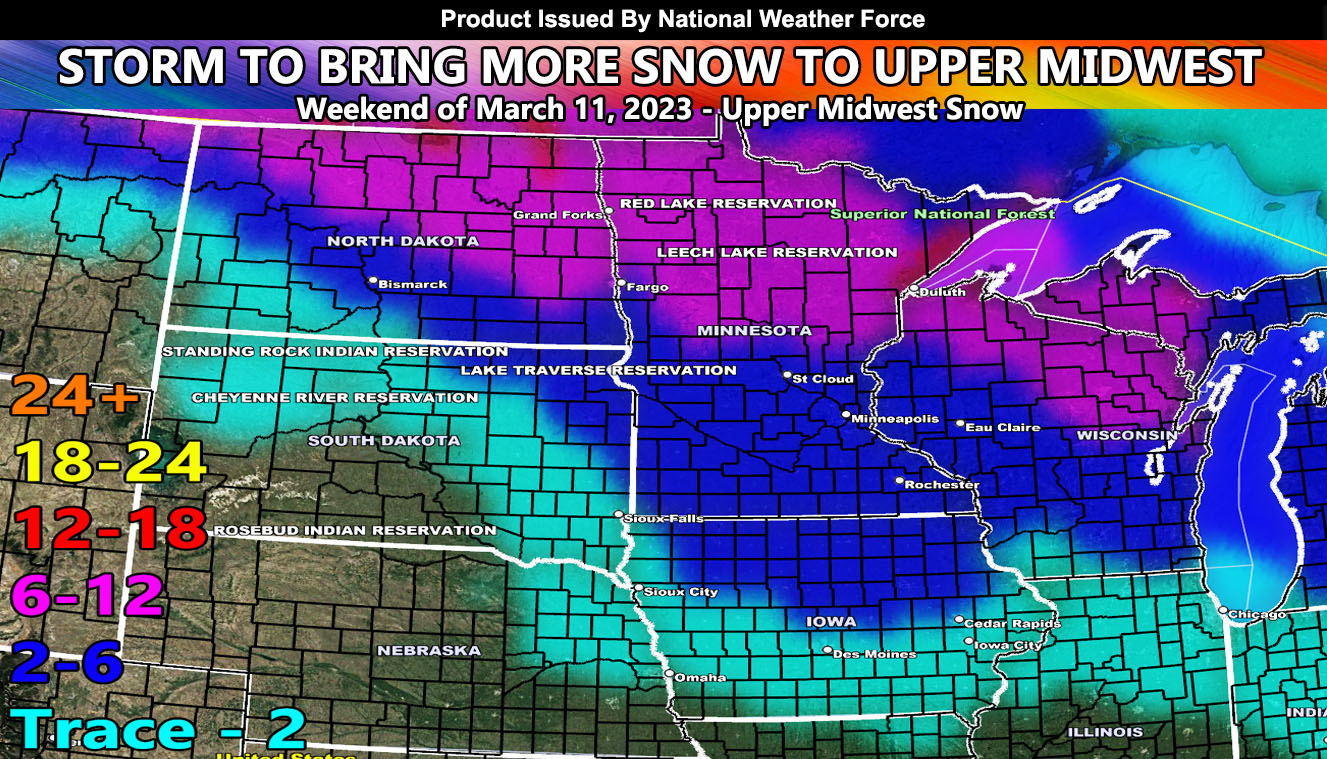 A system affecting both the Pacific Northwest and California today will move eastward, affecting North Dakota as early as this evening, spreading into South Dakota, Minnesota, Iowa, and Wisconsin through the weekend.  National Weather Force has issued two alerts for it.  The Winter Storm Warning and Winter Weather Advisory … so read on for your area as well as the snowfall amount prediction.
As stated, the system will start in North Dakota this evening and make its way through the Upper Midwest this weekend, ending over the day on Sunday.  Saturday will be the day that most of this snow will fall in the warning/advisory areas.
NOTE:  If you are in the Duluth, MN – you can note a 'red' value in that area.  This will be due to the wind direction off Lake Superior, bringing an enhanced smaller zone of lake effect snow, similar to how Milwaukee, WI had the enhanced snowfall with the last system.
Use the maps below to find out what alert you are in.  You can also use information below to find out how much snow is being predicted for the storm passage.
LONG RANGE:  The Pacific jet stream remains active and because of this, additional storms bringing more snow will be likely after March 20th …
---
National Weather Force Alert Zone Type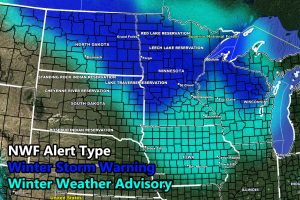 ---
National Weather Force Snowfall Prediction for March 11th into 12th, 2023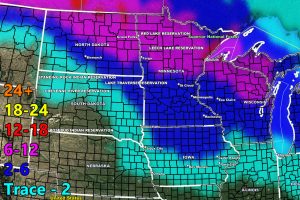 ---
HOW TO GET THESE ALERTS?.
SIGN-UP TO THE FREE NWF E-MAIL ALERT SYSTEM FOR YOUR AREA HERE WHERE YOU PICK YOUR AREA IN YOUR OWN CONTROL PANEL BY STATE LOCATION AND GET NOTIFIED WHEN A POST IS MADE FOR YOU https://www.nationalweatherforce.com/national-weather-force-email-alert-system-sign-up/
FOLLOW the Facebook Page after reading this and interact with the post made about this, whether sharing, liking, or commenting … It will be answered.
CLICK HERE TO FOLLOW THE MAIN FACEBOOK PAGE