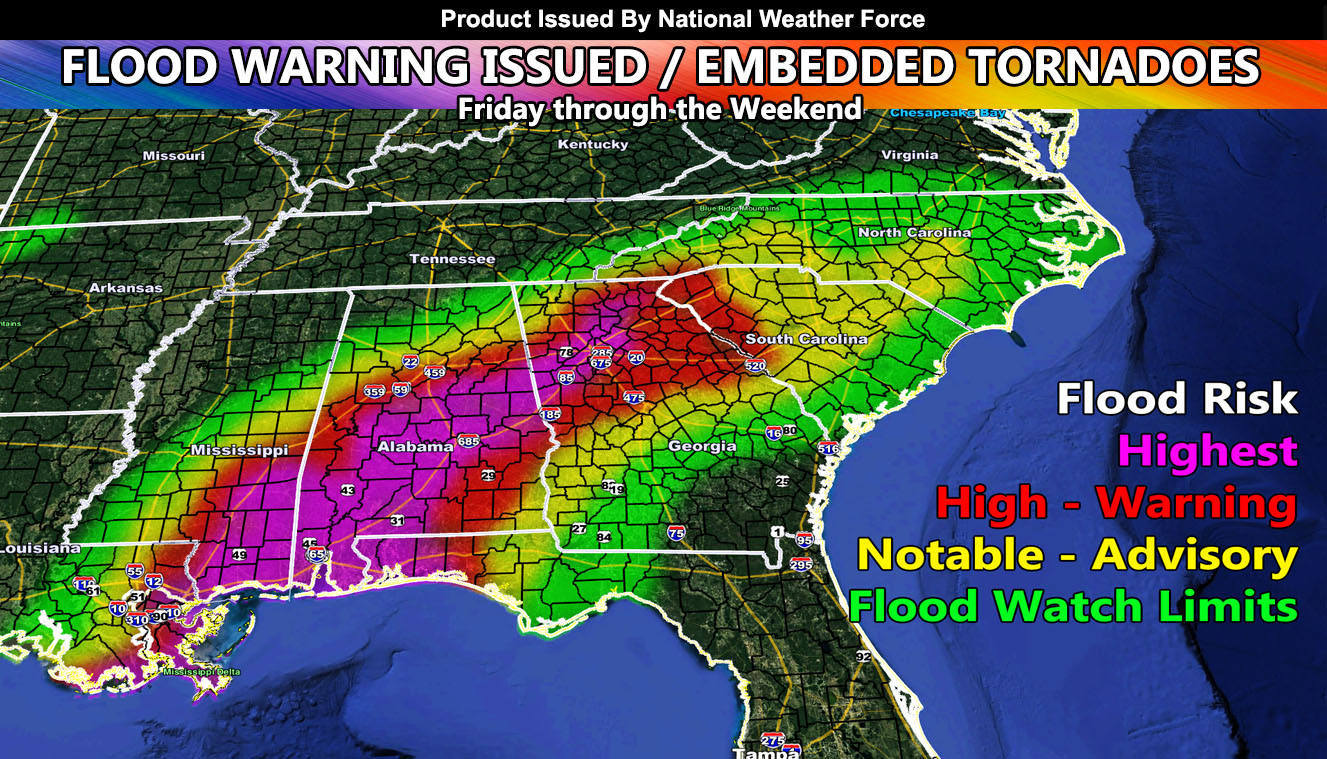 The earlier issued Special Weather Statement has shifted to the east a bit into the National Weather Force Flood Watch, taking Houston out of the flood risk, starting it along the Central Lousiana longitude line and going east to parts of the Florida Panhandle and up as far as the Carolinas as a tropical system moves in off the Gulf of Mexico so read on for details …
In the earlier issued statement (click here) the statement indicated in the medium range of a flood potential for most of the warning area projected here at National Weather Force.  A tropical low will spin up around a parent low southeast of Louisiana tonight and make landfall on the Southern Louisiana Coast later on Friday.  The landfall will make a higher flood risk for New Orleans.  The flood risk map is within this article and you can note your county in Louisiana, Mississippi, Alabama, Georgia, South Carolina, and North Carolina as to what risk you are in on the NWF Flood Risk Model.  The highest risk will be across Southeast MS and the Southern half of Alabama.
Along the coast from New Orleans to the Florida Panhandle however during this period, especially Friday into Saturday, will have a backing southeast flow with enough surface instability to bring a chance of tornadoes so while this is a Flood Warning product, keep in mind it also is a TORNADO WATCH from Southeast Louisiana to the Florida Panhandle and about 100 miles north inland as well.
---
Want notifications? Sign into the free email alert system and choose your state area(s) -Southern California and Arizona are not served though.
LINK TO REGISTER IF ELSEWHERE – http://www.nationalweatherforce.com/national-weather-force-email-alert-system-sign-up/
Have a comment?  Ask on the FB post  – You can even ask your city and get an answer if you are confused – The NWF Facebook Page Link By Clicking Here