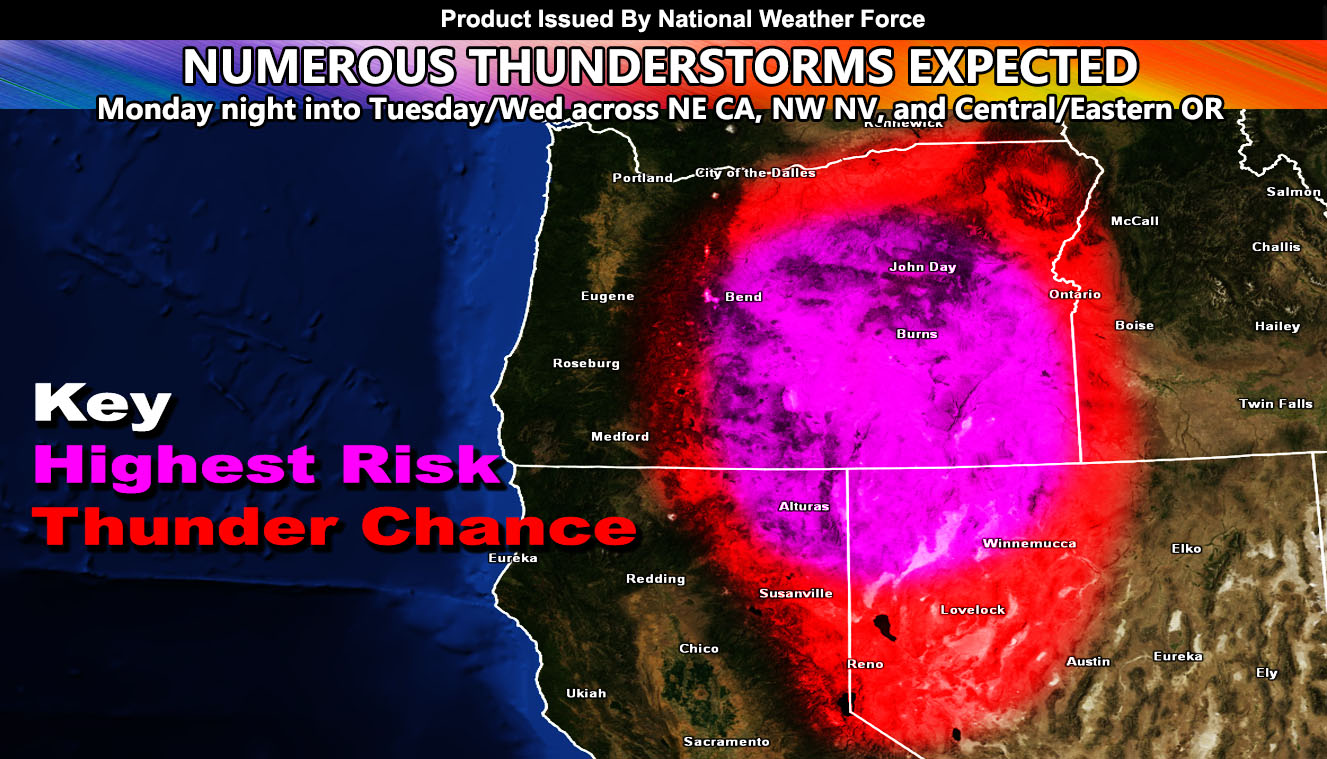 Numerous thunderstorms are expected to start later Monday in Northeast California / Northwest Nevada, including Tahoe and the Reno forecast area, spreading and intensifying north through Central and Eastern Oregon through Tuesday and even Wednesday for OR so read on for details …
An upper-level low will park west of California on Monday.  This system will bring an area of upper divergence to the areas mentioned above and within the image in this article.  Activity will start over the Northern Sierras, including areas like Reno, Tahoe, Susanville, and Alturas.  They will also develop east into Northwest Nevada surrounding the Trego areas where Burning Man is usually held.  This zone does not have too much mid-level moisture with it later Monday into Monday night so it may boost the risk of fire starts due to lightning and little rainfall from the storms.  Would not be surprised to see reports of wildfires on Tuesday from this event.
Further north, the divergence and instability become stronger on Tuesday for Central and Eastern Oregon, which includes the Bend forecast area.  Due to a drier low-level component, we could easily see strong wind gusts in the 40+ range with any of the storms in those areas.  Some of these will have a good heavy downpour, so I'll keep fire risks at least minimal in Oregon and below flood limits.
There are indications the upper system will remain in place through Wednesday, which does mean that additional moisture and instability in Central/Eastern Oregon will pop off more thunderstorms.
---
Want notifications? Sign into the free email alert system and choose your state area(s) -Southern California and Arizona are not served though.
LINK TO REGISTER IF ELSEWHERE – http://www.nationalweatherforce.com/national-weather-force-email-alert-system-sign-up/
Have a comment?  Ask on the FB post  – You can even ask your city and get an answer if you are confused – The NWF Facebook Page Link By Clicking Here