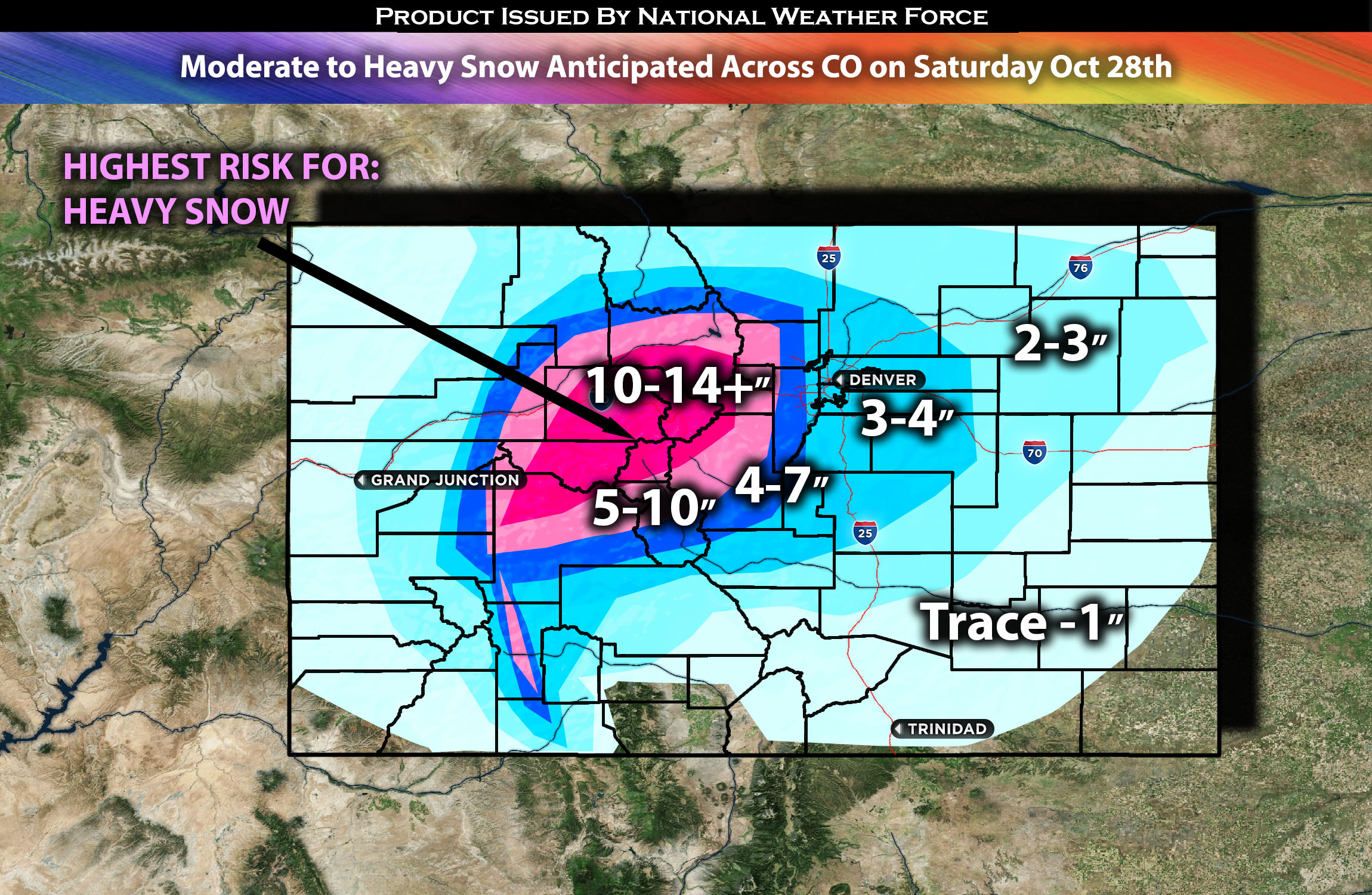 Across CO Region:
Multiple rounds of snow showers are expected, with a few being particularly heavy, especially across the mountains. The first round of snow showers is anticipated mainly across the mountains on Friday night. As the cold front pushes further east and more meteorological elements align (see forecast below for details), another round of heavier and more consistent snow showers is expected across the broader region of CO, including Denver and the plains. The most intense snowfall is predicted for Saturday morning, with additional rounds of snow showers possible throughout the evening for the entire region, especially the mountains.
Regions Impacted: Colorado Mountains, Denver, Greeley, and CO Plains
Forecast Details:
A trough axis with a positive tilt is forecast to descend from the northwestern Rockies to Utah by late Saturday night. Simultaneously, a powerful upper jet streak is predicted to ascend into Colorado. By mid-day on Saturday, a cold front is expected to advance into the lower elevations, introducing significantly colder air to the region and producing a mild, weak upslope. Combined with moisture, this will likely lead to the formation of snow showers across the region, which can be heavy at times. From late Friday to early Sunday, the expansive and gradually moving trough axis is set to induce a modest ascent. The heaviest snowfall is anticipated around early Saturday morning, especially west of I-25. Local accumulations might surpass 6 inches, with mountainous regions seeing 10-18 inches, and even higher amounts in certain areas. These snow showers are projected to continue throughout the morning, predominantly in the mountains, with more snow expected on Saturday evening and into the night.
Stay tuned for more updates.
Sina⚡⚡
With over a decade of experience in forecasting severe thunderstorms, this individual is a seasoned forecaster and developer. Their expertise in severe weather forecasting and computer science is entirely self-taught, complemented by a foundation in Atmospheric Science from UNCO and an IT background from WGU. They have dedicated their efforts to developing innovative tools that enhance the accuracy of analyzing large hail and tornadoes. As a significant contributor to the National Weather Force, they have played a crucial role in providing accurate and timely information, as well as developing tools to keep those affected well-informed.
NOTE: The alerts and outlooks posted here are customary made to inform. At times, which is often, you will see an alert forecast posted on here that you do not see elsewhere. That is fine, the track record of the main office is very high so maintain to follow an event when posted. These are custom concentrated alerts and outlooks that are created by National Weather Force team of experts.