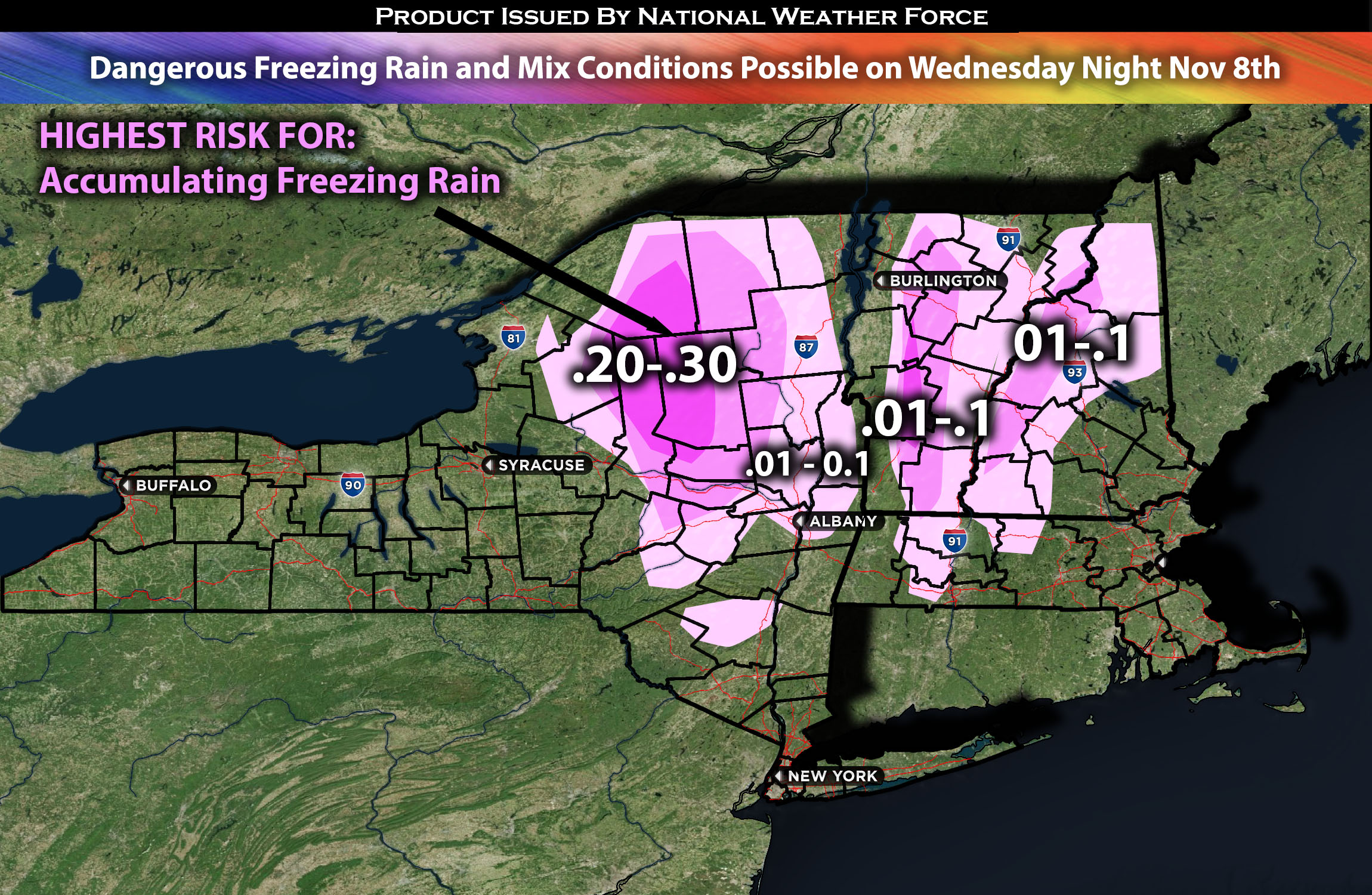 Across NY Northeast through Portions of VT, NH and MA:
Multiple rounds of precipitation, including freezing rain, rain, and snow, are anticipated from Wednesday night through Thursday for areas of New York north central areas and neighboring states. Accumulations are also possible for areas to the east, extending into the neighboring states. Freezing rain may lead to icy roads and hazardous driving conditions. It's advisable to plan ahead of time or reschedule plans if possible.
Regions Impacted: NY Northeast including Albany, NY, VT, NH, and MA regions.
Forecast Details:
A ridge of low pressure from Canada is set to build into our region, leading to a gradual breakup of cloud cover. The combination of light winds, a colder air mass, and the diminishing sun angle characteristic of this time of year will restrict warming on Wednesday. As the day progresses, mid and high-level clouds will start to move in during the late afternoon.
Wednesday night will see the onset of precipitation across our region. The cold air mass in place means that falling precipitation will likely cool the temperatures further due to wet bulb effects. Intensifying warm air and moisture flow, coupled with isentropic lifting, are expected to enhance the spread of precipitation falling through a complex array of thermal layers before reaching the ground.
At lower elevations, a mix of rain and snow is anticipated, while higher elevations should expect snow that will eventually give way to sleet and freezing rain. This is particularly likely in higher terrain areas. Meanwhile, a shift to cold rain is forecast for this region and areas to the south and east. There will be a very narrow margin between rain and freezing rain in some spots, with temperatures fluctuating between 30 and 34 degrees over short distances and with variations in elevation. Too much ice accumulation is not anticipated due to the warmer roads, but some dangers ice cannot be ruled out.
Stay tuned for more updates.
Sina⚡⚡
With over a decade of experience in forecasting severe thunderstorms, this individual is a seasoned forecaster and developer. Their expertise in severe weather forecasting and computer science is entirely self-taught, complemented by a foundation in Atmospheric Science from UNCO and an IT background from WGU. They have dedicated their efforts to developing innovative tools that enhance the accuracy of analyzing large hail and tornadoes. As a significant contributor to the National Weather Force, they have played a crucial role in providing accurate and timely information, as well as developing tools to keep those affected well-informed.
NOTE: The alerts and outlooks posted here are customary made to inform. At times, which is often, you will see an alert forecast posted on here that you do not see elsewhere. That is fine, the track record of the main office is very high so maintain to follow an event when posted. These are custom concentrated alerts and outlooks that are created by National Weather Force team of experts.