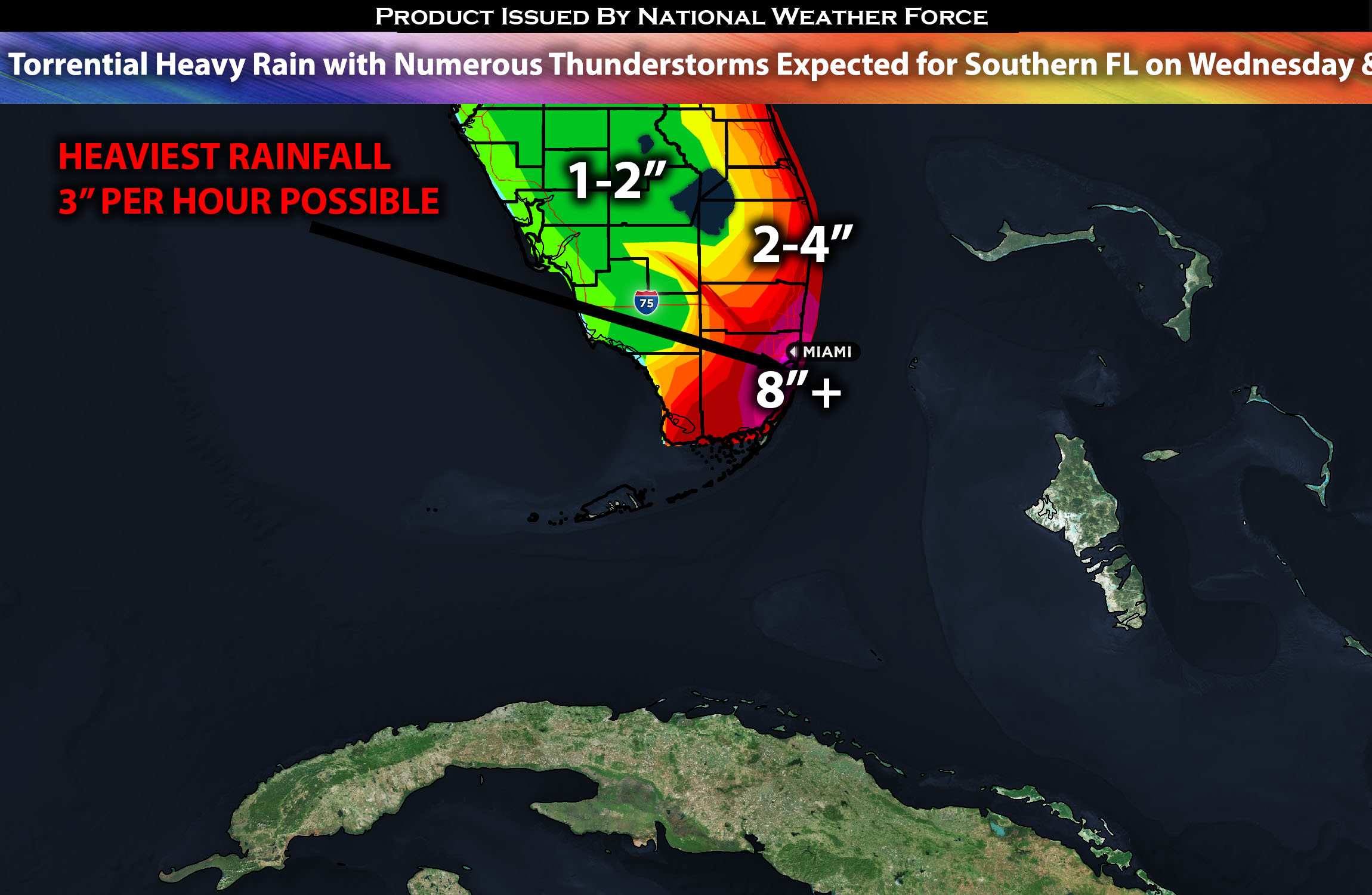 Across Southeastern Florida:
Torrential rain, along with training storms and numerous thunderstorms, is expected to affect the region on Wednesday. These storms, originating from the west, will move eastward across the area. The southeastern portions, especially the Florida coast, appear to be at the greatest risk for flooding. Cities expected to experience the heaviest rainfall include Miami and the surrounding areas along the coast. Due to the increased instability, there will also be numerous thunderstorms.
Regions At Risk: Florida south (especially southeastern). 
Forecast Details:
In the upper levels of the atmosphere, a shortwave trough is expected to continue its progression toward the Florida area from the Gulf of Mexico. This movement will lead to an increase in differential advection across the region. Concurrently at the surface, a stationary boundary is in place, which is predicted to shift slightly northward, closer to the southern Florida coast. On Wednesday, a combination of these factors, including added moisture and heightened instability, will set the stage for stronger and more numerous thunderstorms. This will likely result in very heavy rainfall across southeastern Florida from Wednesday into Thursday morning before the storm activity diminishes and moves out of the area.
Main risk: small hail, local gusty winds, and very heavy rainfall.
Stay tuned for more updates.
Sina⚡⚡
With over a decade of experience in forecasting severe thunderstorms, this individual is a seasoned forecaster and developer. Their expertise in severe weather forecasting and computer science is entirely self-taught, complemented by a foundation in Atmospheric Science from UNCO and an IT background from WGU. They have dedicated their efforts to developing innovative tools that enhance the accuracy of analyzing large hail and tornadoes. As a significant contributor to the National Weather Force, they have played a crucial role in providing accurate and timely information, as well as developing tools to keep those affected well-informed.