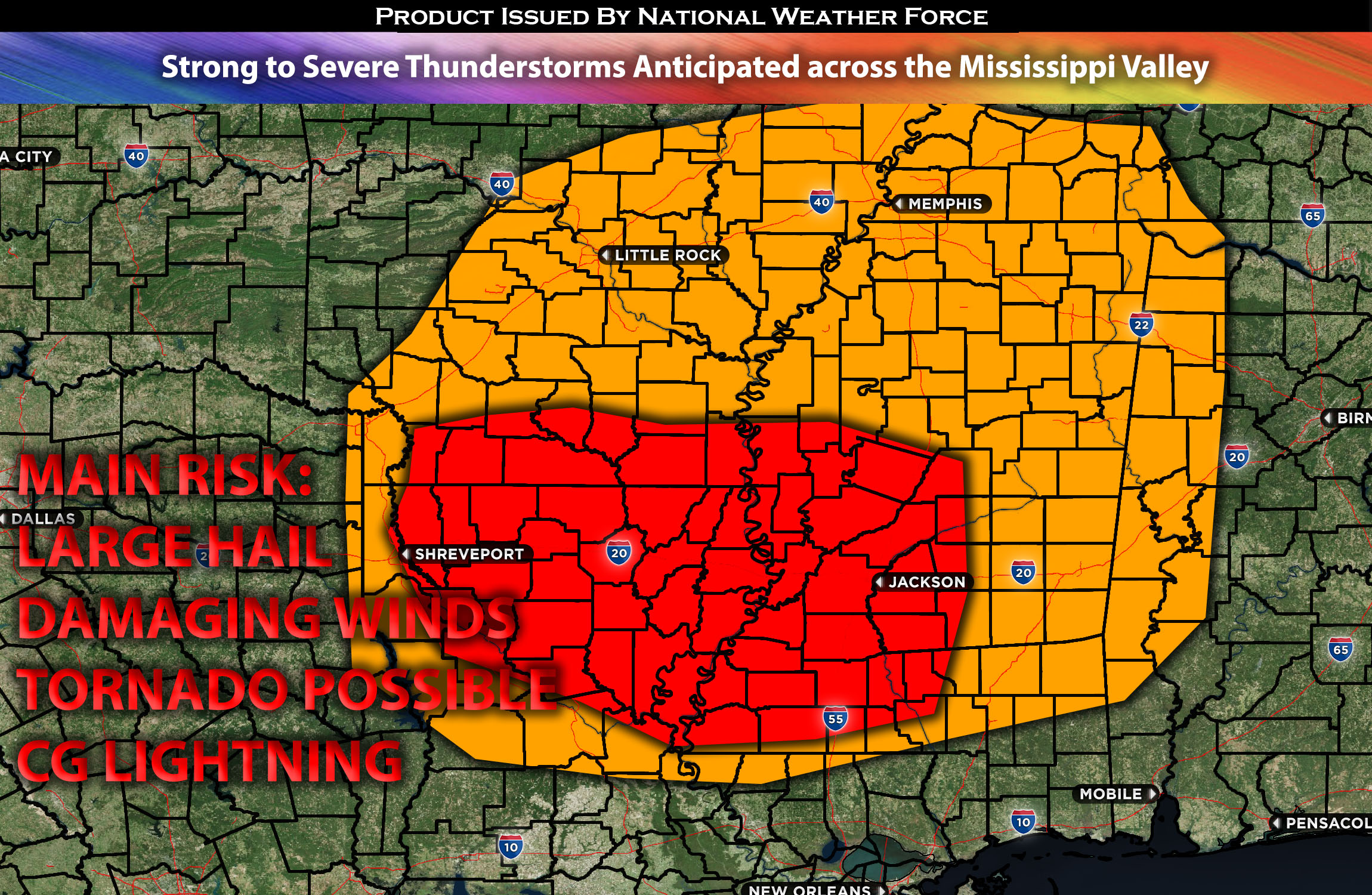 Across Mississippi Valley and Southeast regions:
Strong to severe thunderstorms are anticipated to impact the region, with the primary risks being damaging winds, large hail, and possibly a few tornadoes due to low-level shear within a brief timeframe. These storms, expected to be scattered in nature, are likely to develop from west to east over the AR/LA area during the afternoon. They will continue moving eastward across the impacted regions into the evening hours.
Regions At Risk: AR, LA, TN, and MS area.
 Forecast Details:
In the upper levels of the atmosphere, an upper-level trough with a positive tilt is expected to evolve into an upper-level low by Monday, moving over the Mississippi Valley area. Concurrently, multiple shortwave troughs along a jet stream are anticipated to move over the ArkLaTex and Southeast regions.
Strong Forcing in the atmosphere will assist in forming a surface low over Oklahoma, anticipated to shift northeast towards the Mississippi River early this morning. Ahead of the trough and surface low, a pronounced low-level mass movement is expected to usher in a warm front, bringing moisture-rich air (with dewpoints in the 60s) up to the Mississippi/Tennessee border. While the mid-level temperature gradients are not steep, the marked differential heating and lifting of air should create enough instability, ranging from weak to moderate, to support the development of scattered severe storms across parts of the ArkLaTex and Southeast states from this afternoon through tonight. This, combined with effective shear and some low-level shear, will create conditions conducive to storms with the potential for damaging winds, large hail, and possibly a few tornadoes during that brief period when low-level shear is most concentrated. As storms merge, particularly into the evening, the threat of damaging winds will significantly increase, with more linear storm activity expected across the area.
Main risk: Large hail, damaging winds, perhaps a few tornadoes possible.
Stay tuned for more updates.
Sina⚡⚡
With over a decade of experience in forecasting severe thunderstorms, this individual is a seasoned forecaster and developer. Their expertise in severe weather forecasting and computer science is entirely self-taught, complemented by a foundation in Atmospheric Science from UNCO and an IT background from WGU. They have dedicated their efforts to developing innovative tools that enhance the accuracy of analyzing large hail and tornadoes. As a significant contributor to the National Weather Force, they have played a crucial role in providing accurate and timely information, as well as developing tools to keep those affected well-informed.
NOTE: The alerts and outlooks posted here are customary made to inform. At times, which is often, you will see an alert forecast posted on here that you do not see elsewhere. That is fine, the track record of the main office is very high so maintain to follow an event when posted. These are custom concentrated alerts and outlooks that are created by National Weather Force team of experts.