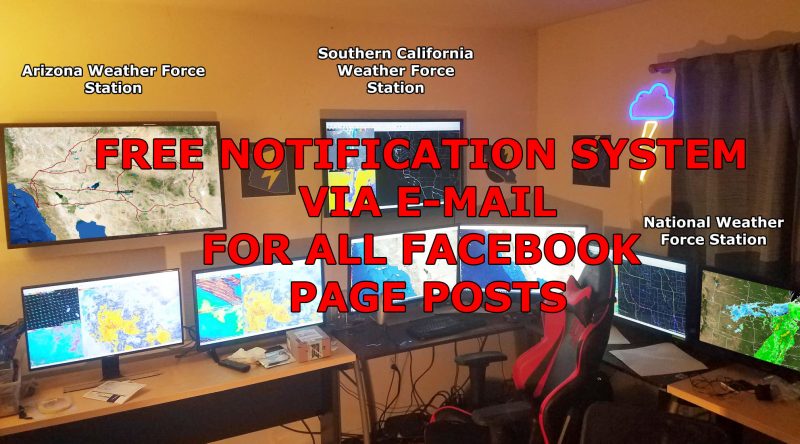 Welcome to the sign-up page to what is known as the only custom e-mail alert weather system for your state zone area(s) you choose in your control panel upon this site registering you.
NOTE:  Southern California and Arizona will NOT be served on this free national system, nor is Alaska or Hawaii.  Those are localized zones of focus and obligation.  This system is free right now because at times something will be missed if I am busy on the other sites. 
FREE SIGN UP: National Weather Force has seen the need to add an add-on. The alert system is a business and drives the site, however, I think I can make it so you get notified when an
update
is posted on Facebook for your state area. Sign-up for your free account. This account only serves to get you notified when an update is made on Facebook.
NOTE: The link to the sign-up page is in the comment section… Take advantage of this offer today as Fall season starts.. things will start to get busy around the USA from snow, ice, etc –
So sign-up, complete the captcha, confirm the e-mail, and you're in the system. I do not have to sign you in, this can be instant. This is the best I can do to keep you in the loop and make sure you see the updates that FB algorithm may not show you… Once an update is posted on the main NWF FB Page that affects that check-marked zones you put in the alert system control panel at NWF main website, you will receive an e-mail and link to that post…
Hope this helps you – Sign-up below – Oh, and you don't need to put a first or last name, I don't care what you put, just the email has to be correct or you won't receive them –