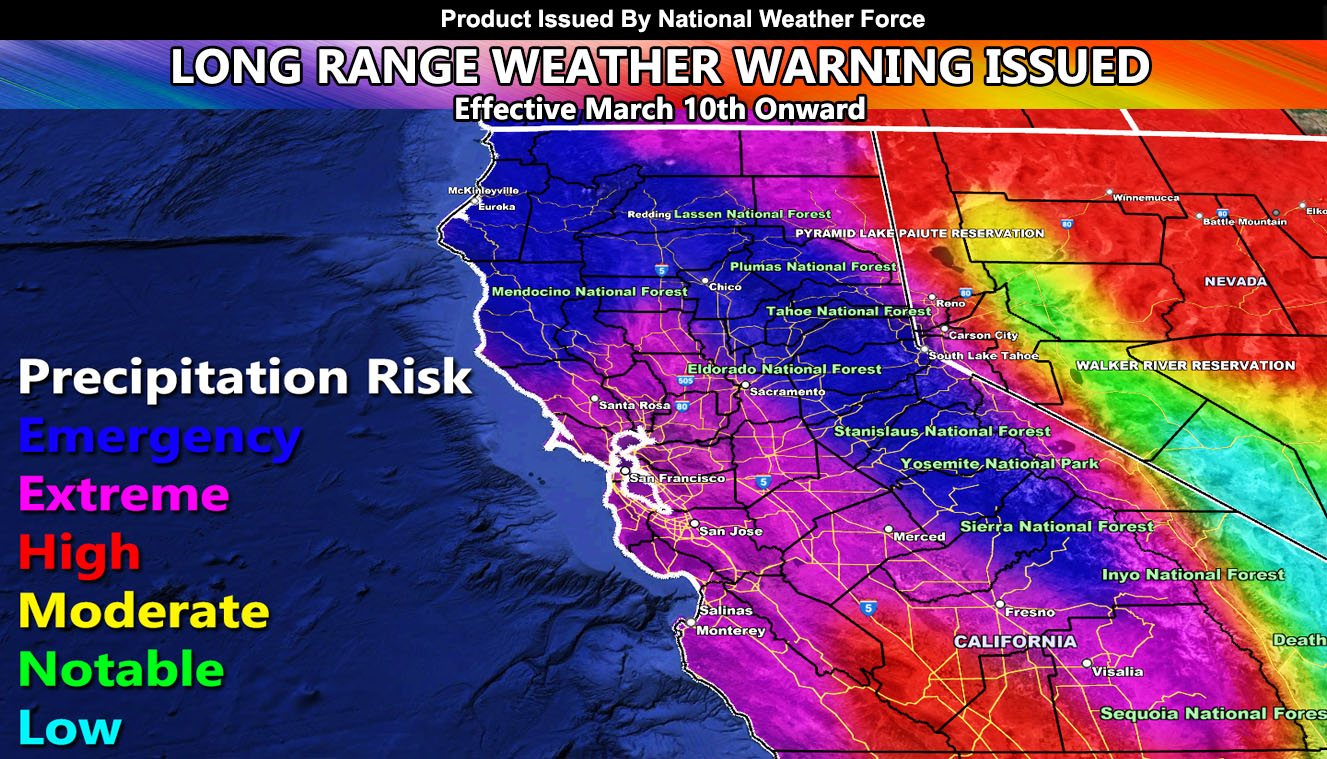 National Weather Force has issued a Long-Range Weather Warning effective now for March 10th through the 10-day period as a series of strong storm systems moves into the forecast region so read on for details …
National Weather Force models predicted at the beginning of the month that California would have a very dangerous period of storms.  These storms will hit Central and Northern California by March 10th with the first arrival.  The second arrival will be around March 14th.  The reason this is a warning is because National Weather Force models have pegged an Emergency shade in the Sierra Nevada areas, including the western foothills.
Furthermore, a large area of extreme hits the metro areas all down the Sacramento and San Joaquin Valley areas.  This is similar to the flooding events of a couple months ago.  What is more dangerous however is that the coming storms will be warmer than a couple months ago.  All the snow below the higher snow-level will melt and cause flooding as rivers and creeks become a roaring rapid.
If you are in the flood zones within this update, you have this week to prepare.  We all know what happened in these areas with the storms a couple of months ago.  You now have your warning.  National Weather Force models are exceptional in the long range and trusted by readers state-wide.
---
HOW TO GET THESE ALERTS?.
SIGN-UP TO THE FREE NWF E-MAIL ALERT SYSTEM FOR YOUR AREA HERE WHERE YOU PICK YOUR AREA IN YOUR OWN CONTROL PANEL BY STATE LOCATION AND GET NOTIFIED WHEN A POST IS MADE FOR YOU https://www.nationalweatherforce.com/national-weather-force-email-alert-system-sign-up/
FOLLOW the Facebook Page after reading this and interact with the post made about this, whether sharing, liking, or commenting … It will be answered
CLICK HERE TO FOLLOW THE MAIN FACEBOOK PAGE