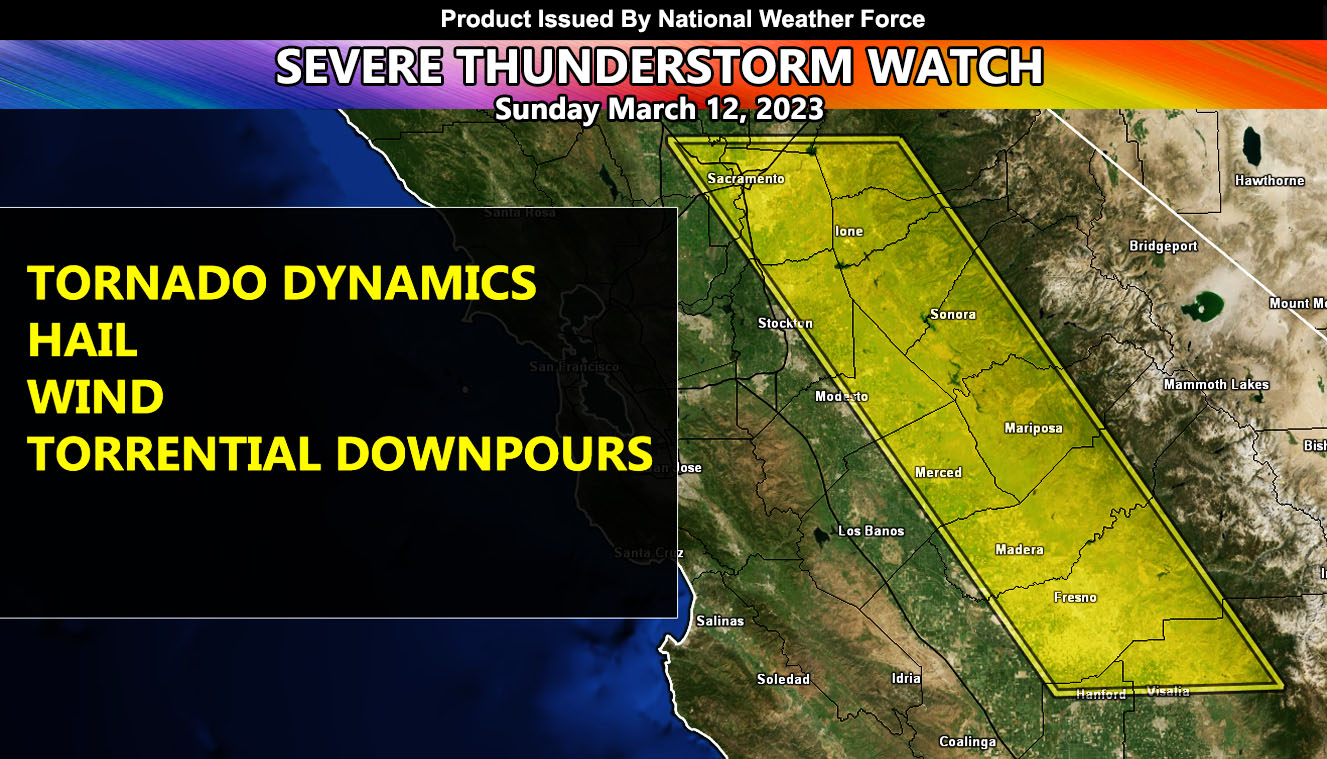 National Weather Force has issued a Severe Thunderstorm Watch expanding from Fresno County, north through Fresno and further north along Highway 99 into the Sacramento Valley zones, effective today, March 12, 2023, during the afternoon through evening hours.
I do believe that up near the Sacramento zones, south and east of there by a bit is where the first warnings will be, followed by the rest of the watch area later in the afternoon or early evening hours.
The upper-level jet stream and lift combined is not as strong in the northern boxed zones (Sacramento Valley) as it is in the Merced and Madera County areas.  Because of the stronger dynamics in those areas, I do believe we are looking at ground zero for the strongest storms to be in the counties of Merced and Madera, with the combination of a stronger upper-level jet, upslope lifting, or, orographic lift west of the Sierra Nevada Mountain Range, and acceptable low-level shear.  Low-topped supercells are expected to form as a result, some with tops over 25-30kft.
Dynamics for severe thunderstorms this will not stretch into parts of Kern County like yesterday, which is in the Southern California Weather Force jurisdiction.
A Severe Thunderstorm Watch means that conditions are favorable for thunderstorms to form with hail, gusty winds, and if the wording supports it … funnel clouds / tornado …
---
HOW TO GET THESE ALERTS?.
SIGN-UP TO THE FREE NWF E-MAIL ALERT SYSTEM FOR YOUR AREA HERE WHERE YOU PICK YOUR AREA IN YOUR OWN CONTROL PANEL BY STATE LOCATION AND GET NOTIFIED WHEN A POST IS MADE FOR YOU https://www.nationalweatherforce.com/national-weather-force-email-alert-system-sign-up/
FOLLOW the Facebook Page after reading this and interact with the post made about this, whether sharing, liking, or commenting … It will be answered.
CLICK HERE TO FOLLOW THE MAIN FACEBOOK PAGE